Current Links and Upcoming Events
Pack Meetings Reptile Presentation - Tuesday September 13 at 4:30pm Location: Fischer Hall St. Anne's. All individuals need to enter the building using the doors by the blue dumpster but must park in the large lot.  There is still childcare happening and they don't want us driving in the space where the kids may be playing.  So, park in the west parking lot and walk around the building to the northwest doors.  All scouts should be in their class A uniform as well. We will start promptly at 4:30 with flags followed by the reptile presentation.  After the presentation, we will do awards from summer camp, followed by the popcorn presentation.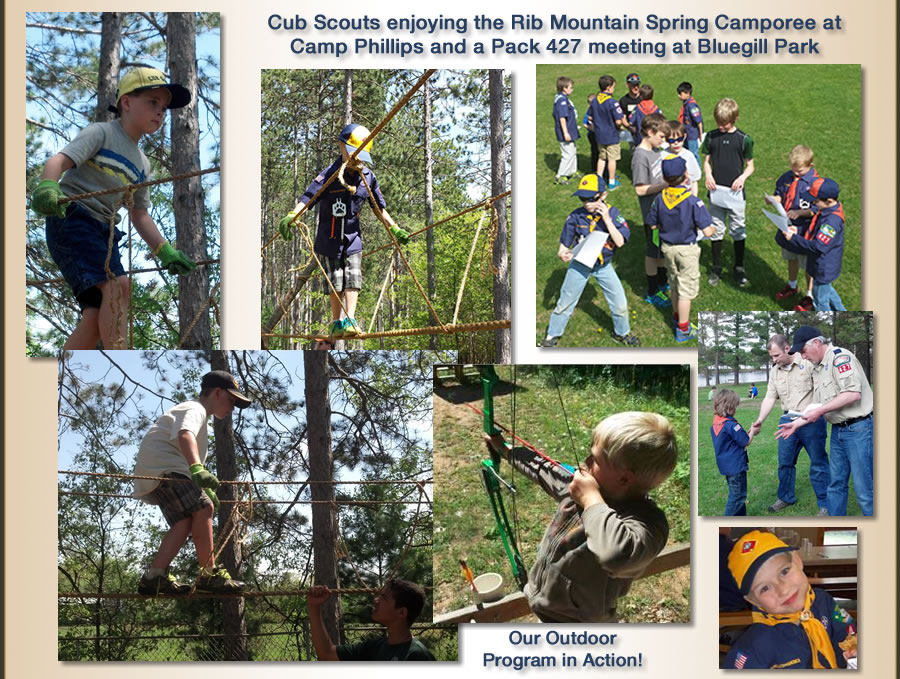 Cub Scout Pack 427 Leaders

Cubmaster:

Jeremy Hoffmann
cubmaster@scouts427.org

Committee Chairperson:

Dana Parlier Pease
packcommitteechair@scouts427.org

Committee Treasurer:

Josh Berghammer

Committee Secretary:

Awards Chairperson:

Lisa Streeter

Competition Chair:

Parent volunteers

Popcorn Kernal:

Dan Graveen

Webelos II Den Leader:

Jon Degroot

Webelos I Den Leader:

Mike Murphy

Webelos Girl Den Leader:

Amanda Harl

Bear Den Leader:

Jeremy Hoffman

Wolf Den Leader:

Jared & Mary Savage

Wolf/Tiger Girl Den Leader:

Tiger Den Leader:

Lion Den Leader:

Sam Buemi
Please contact our Pack Committee Chairperson of you are interested in volunteering.