Upcoming Events: 
Parent Meeting -

Tuesday February 11 at 6pm for Planning the Blue & Gold Event

Blue & Gold Banquet

- Once again we are celebrating the anniversary of Scouting with our Blue & Gold banquet. It will take place on Sunday, February 23 at noon in McKillip Hall at St. Annes.  All scouts are invited to attend mass at 10:30 and then come right to the celebration.  We will have our AOL scouts crossing over into the troop and will be awarding achievements to all the scouts who have earned them.  We will be having Qdoba and dessert as our meal. 

Please RSVP with SignUPGenius so we know how many to plan for!!

Supertrip to Lambeau Field on March 13, 2020.  Well....it's here for all you super popcorn sellers!!  We have decided on the super trip....Lambeau Field on March 13!!  You will get to tour the stadium, watch a movie in the stadium and sleep in the Hall of Fame.  In addition, you get a ticket to tour the Hall of Fame at a later date.  IF your scout sold $600 worth of popcorn, they will have their admission fee paid ($50).  The accompanying adult will have to pay their way.  If your scout did NOT sell $600 but sold some popcorn and would like to attend, they can but it will cost $50 for the scout AND the adult.     Please sign up using this link.  There is still room for more to experience the fun.  Payments can be turned in at the Blue & Gold banquet

Akela's World....Bring your cub scout for a weekend of FUN!!  The kids have a blast (adults enjoy themselves too!!).  The sign up is here.  Payment for your slot will need to be made at the Blue & Gold banquet or the next pack meeting if you aren't able to attend the Blue & Gold. We have 2 weekends available for people to attend this year: June 26-28 or July 31-Aug 2.    However, there are limited spots available June 26-28 due to the popularity of the weekend.  The cost of camp is $159 for youth and $95 for adults.  If you plan on bringing your own tent, the cost is reduced by $12 per person.  If you have sold popcorn, your totals could be different as well.  We will need to talk about your personal situation regarding popcorn credits.  So, please sign up for the weekend you intend to attend camp and we can connect for payment.  Bring on summer!!!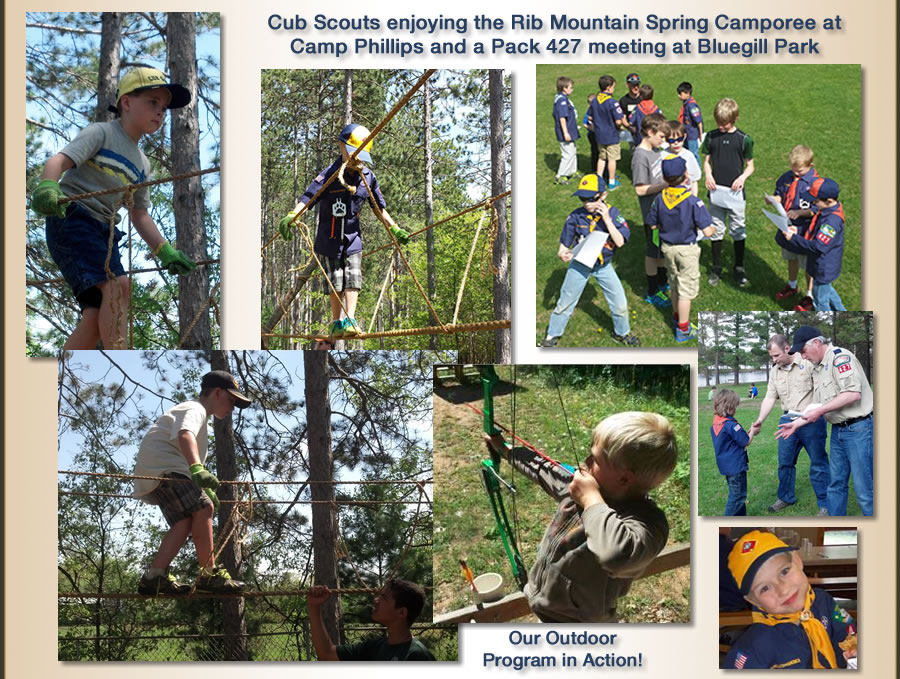 Cub Scout Pack 427 Leaders

Cubmaster:

Jeremy Hoffmann
cubmaster@scouts427.org

Committee Chairperson:

Dana Parlier Pease
packcommitteechair@scouts427.org

Committee Treasurer:

Josh Berghammer

Committee Secretary:

Awards Chairperson:

David Blank

Competition Chair:

Travis Sondelski (Pinewood & Rockets)

Popcorn Kernal:

Dan Graveen

Webelos II Den Leader:

Travis Sondelski & Jim Soczka

Webelos I Den Leader:

Tim Wittwer

Webelos Girl Den Leader:

Dana Parlier Pease

Bear Den Leader:

Jon Degroot

Wolf Den Leader:

Mike Murphy

Wolf/Tiger Girl Den Leader:

Amanda Harl

Tiger Den Leader:

Jeremy Hoffman

Lion Den Leader:

Jared Savage
Please contact our Pack Committee Chairperson of you are interested in volunteering.